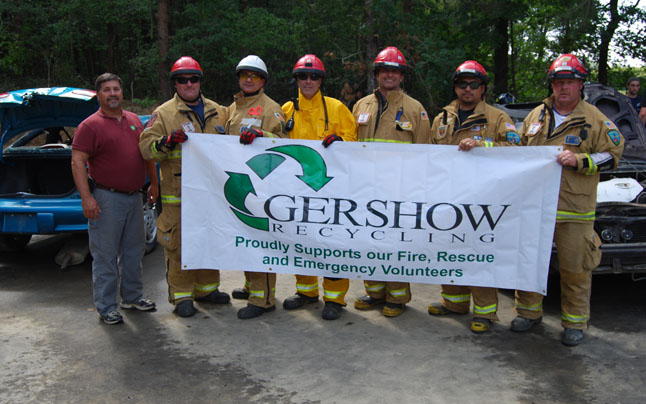 Gershow Recycling donated the use of 25 vehicles that were used in the 2013 North American Vehicle Rescue Challenge, which took place on the training grounds of the Hagerman Fire Department in East Patchogue on September 13-14.
Fifteen teams from Long Island, upstate New York, Illinois, Canada, and Sweden took part in the two-day competition. The top five overall winners were:
Ottawa, Ontario, Canada *
West Coast Rescue Team, Skaraborg, Sweden
Burlington, Ontario, Canada *
Halifax, Nova Scotia, Canada *
Montauk Fire Department
* Indicates Overall North American Regional Winners
Each team participated in three challenge pits: Limited Pit (where only hand and pneumatic tools are used), Unlimited Pit and Rapid Pit (in both pits, all rescue tools are available, including heavy hydraulic rescue equipment). Those who competed in the Limited and Unlimited Pit had 20 minutes to extricate a "victim" from a "crash," while Rapid Pit participants only had 10 minutes to safely perform the extrication. All teams were judged based on the command structure, hazard and scene control, patient and rescuer safety and techniques used to disentangle the patient.