Recycling Program Expands into Other School Districts,
Helping in the Fight against Childhood Cancer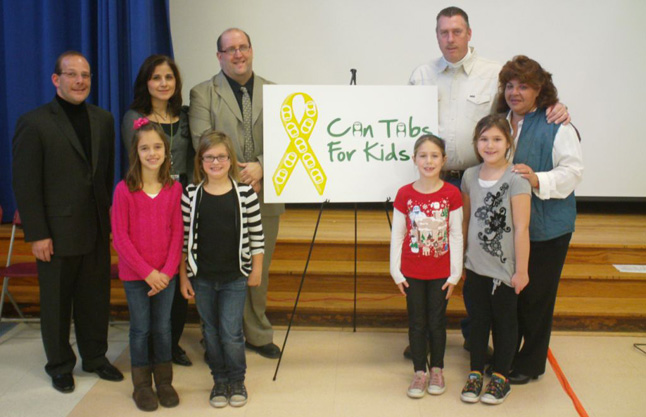 Joining some of the students from Kreamer Street Elementary School are (left to right) Jonathan Abrams, Cara Giannillo, Sean Clark and Peter and Nancy Marks.
In this season of giving, there is no better way for young children to get into the holiday spirit than doing what they can in the fight against childhood cancer. Gershow Recycling joined with school officials, elected officials, staff members from the Stony Brook Medical Center and students to kick off the growing "Can Tabs for Kids" program at Kreamer Street Elementary School in Bellport on December 14. This program benefits the Sunrise Fund at Stony Brook University Medical Center, an organization that raises awareness for specific projects to assist families with children fighting childhood cancer.
Can Tabs for Kids began at William Floyd Elementary School on February 4. Maria Marks, a William Floyd student who was diagnosed with cancer at a young age, was the inspiration for the program. Between the ages of two weeks and six months, she underwent numerous chemotherapy sessions. The constant exposure to the radiation resulted in Maria losing her hearing in both ears and now she must wear hearing aids. Her cancer has since been in remission.
Since the program began, it has expanded to other school districts, including the Half Hollow Hills School District, Patchogue-Medford Schools and the William Floyd School District, as well as two parochial schools: Holy Angels Regional School in Patchogue and Our Lady of Mercy in Cutchogue. To date, more than one million aluminum tabs have been collected.
This year alone, an estimated 10,700 children under the age of 15 will be diagnosed with cancer this year alone, according to the American Cancer Society. It is estimated that 1,340 children will die from the disease. The ACS further states that the five-year survival rate for these children is 80%.
Gershow Recycling Manager Jonathan Abrams spoke to students about the company's involvement with Can Tabs for Kids, how the program works and how it has expanded into other schools. He also thanked the students for their participation in this wonderful program.
Press:
The Long Island Advance | December 22, 2011 | Can Tabs for Kids