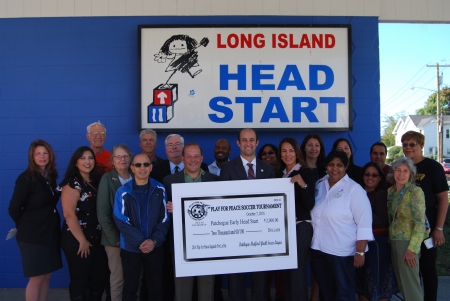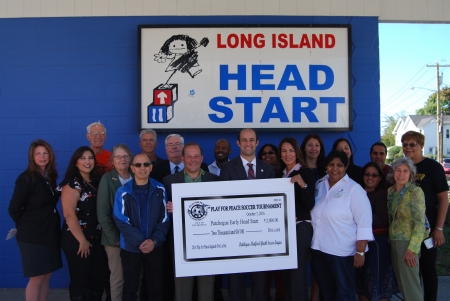 On October 7, Gershow Recycling joined sponsors and participants of the eighth annual Play for Peace/Jugando Por La Paz Soccer Tournament at Long Island Head Start in Patchogue to present the school with a check in the amount of $2,000. The funds came from money that was raised during the soccer tournament through sponsorships and donations.
This year, Gershow sponsored and donated $2,000 to help defray the costs of putting on the soccer tournament, which was held August 13 at the Patchogue-Medford Youth Soccer Complex in Medford. Gershow also had a team in the tournament participating in the Men's Division.
The goals of Play For Peace are to bring together diverse nationalities within the community for a full day of World Cup-style soccer and to use sports as a way for people from different ethnic backgrounds to find common ground. The tournament was first organized in 2009 through the office of then-Legislator Jack Eddington in conjunction with the Patchogue-Medford Youth Soccer League as a response to the Marcelo Lucero tragedy. In 2011, when Legislator Rob Calarco was elected, he carried on the tradition of presenting the tournament.
The mission of Long Island Head Start is to provide a comprehensive learning environment to children, respectful of their culture, and to assist families in reaching self-sufficiency through the combined efforts of parents, community, and staff. The donation will be used to support local programs.