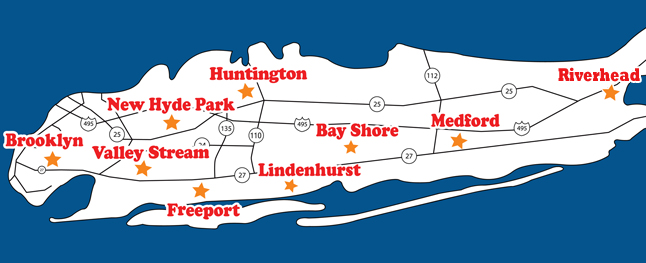 Long Island Scrap Metal Facility Locations
Scroll over the map above with your mouse for a detailed view of each Long Island location and click for a larger map and directions. View our locations and hours of operation below for all Gershow Recycling facilities in Suffolk County, Nassau County and Brooklyn. Our corporate headquarters are located in Medford.
The following facilities will be CLOSED on Saturday, August 30th and Monday, September 1st:
Medford • New Hyde Park • Brooklyn • Freeport • Valley Stream • Huntington • Bay Shore • Riverhead
Lindenhurst will be open regular hours Saturday, August 30th
and Sunday, August 31st and CLOSED Monday September 1st.
BROOKLYN

1888 Pitkin Ave.
Brooklyn, NY 11212
map and directions

Phone: (718) 345-2240
Fax: (718) 485-4341

Hours:
Monday - Friday: 7 a.m. - 5 p.m.
Saturday: 7 a.m. - 1 p.m.
Please call for holiday schedules.

Lic. #: 7090157

VALLEY STREAM

97 East Hawthorne Ave.
Valley Stream, NY 11580
map and directions

Phone: (516) 825-7244
Fax: (516) 825-0271

Hours:
Monday - Friday: 7 a.m. - 5 p.m.
Saturday: 9 a.m. - 3 p.m.
Please call for holiday schedules.

Accepts C&D
Lic. #: 7112745

FREEPORT

143 Hanse Ave.
Freeport, NY 11520
map and directions

Phone: (516) 634-0644
Fax: (516) 634-0641

Hours:
Monday - Friday: 7 a.m. - 5 p.m.
Saturday: 7 a.m. - 1 p.m.
Please call for holiday schedules.

Accepts C&D
Lic. #: 7111364

NEW HYDE PARK

24 Denton Ave.
New Hyde Park, NY 11040
map and directions

Phone: (516) 746-1081
Fax: (516) 746-1127

Hours:
Monday - Friday: 7 a.m. - 5 p.m.
Saturday: 7 a.m. - 1 p.m.
Please call for holiday schedules.

Lic. #: 7086593

HUNTINGTON

149 W. 11th St.
Huntington Station, NY 11746
map and directions

Phone: (631) 385-1200
Fax: (631) 385-1918

Hours:
Monday - Friday: 7 a.m. - 5 p.m.
Saturday: 7 a.m. - 1 p.m.
Please call for holiday schedules.

Lic. #: 7106710

LINDENHURST

635 Muncy Ave.
Lindenhurst, NY 11757
map and directions

Phone: (631) 587-1991
Fax: (631) 884-2823

Hours:
Monday - Friday: 7 a.m. - 5 p.m.
Saturday: 7 a.m. - 4 p.m.
Sunday: 12 p.m. - 4 p.m.
Please call for holiday schedules.

Lic. #: 7054828

BAY SHORE

33 McAdam St.
Bay Shore, NY 11706
map and directions

Phone: (631) 234-1022
Fax: (631) 666-9259

Hours:
Monday - Friday: 7 a.m. - 5 p.m.
Saturday: 7 a.m. - 1 p.m.
Please call for holiday schedules.

Lic. #: 7090529

RIVERHEAD

27 Hubbard Ave.
Riverhead, NY 11901
map and directions

Phone: (631) 727-3521
Fax: (631) 727-7160

Hours:
Monday - Friday: 7 a.m. - 5 p.m.
Saturday: 7 a.m. - 1 p.m.
Please call for holiday schedules.

Lic. #: 7114915

MEDFORD

71 Peconic Ave. PO Box 526
Medford, NY 11763
map and directions

Phone: (631) 289-6188
Fax: (631) 289-6368

Hours:
Monday - Friday: 7 a.m. - 5 p.m.
Saturday: 7 a.m. - 1 p.m.
Please call for holiday schedules.

Lic. #: 7002727