For More News Click Here | July 25, 2013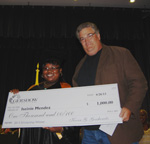 Eric Kugler, manager of Gershow's Brooklyn facility, presented the Gershow Recycling Environmental Conservation Scholarship to Iseinie Mendez, a student at Frederick Douglass Academy VII in Brooklyn, during the school's graduation ceremony on June 26 at Medgar Evers College in Brooklyn.
Truly successful recycling involves minimizing waste along the entire life cycle of a product, from acquiring raw materials to manufacturing, using and disposing of a product. Most environmental impacts associated with the products we buy occur before we open the package, so buying products made from recycled materials is just as important as sorting waste into the right bins.

Be sure to nominate Gershow Recycling for Long Island Press' "Best of LI 2014"! Click here and, under Green Business, type in Gershow Recycling, Multiple Locations. Nominations are being accepted until August 31.
Home | About Gershow | Locations | Our Products | Buyers of Scrap Metal | News | Support | Contact

© 2013, Gershow Recycling
We Buy Junk Cars, Trucks & Buses, Scrap Iron, Aluminum, Copper, Brass, Tin Cans,
Copper Bearing Scrap, Electric Motors, Waste Paper & All Other Scrap Metal Products
Developed and maintained by The Public Relations and Marketing Group.

Forward | Subscribe | Unsubscribe | www.gershow.com