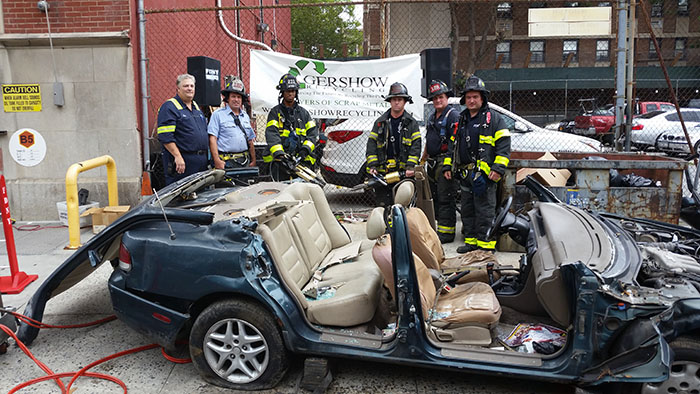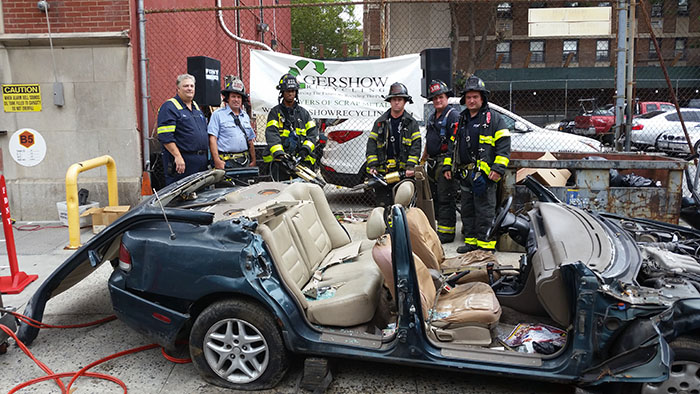 Pictured: Eric Kugler (left), Manager, Gershow's Brooklyn facility, is joined by members of the FDNY after an extrication drill at the department's 150th Summer Block Party in Brooklyn on September 12.In support of local firefighters, Gershow Recycling donated the use of a vehicle to the New York City Fire Department (FDNY) for an extrication practice drill during the FDNY's 150th Summer Block Party in front of Engine 231/Ladder 120 in Brooklyn on September 12.
Those in attendance saw firefighters performing an extrication drill using the "Jaws of Life" to remove a "victim" from a "crash." Gershow has donated the use of its vehicles to numerous fire departments in the metropolitan New York area and has hosted firefighters, Emergency Medical Service technicians and first responders at its locations for extrication exercises, mass casualty drills and Urban Search and Rescue training exercises.
In addition to the extrication exercise, the FDNY provided games, food, music and fun for the entire family. Attendees also learned about the formation and the rich history of the FDNY.