April 10, 2009
Gershow Recycling's Wearing of the "Green"
at St. Patrick's Day Event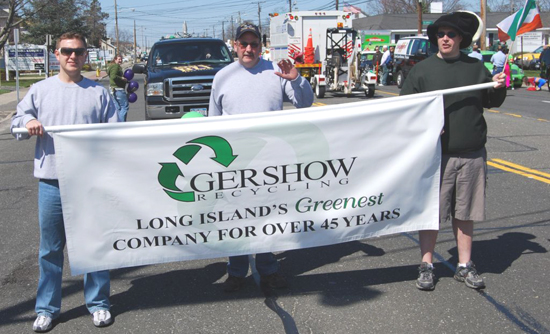 Pictured: Gershow Recycling's Pete Vaillant (left) and Patrick Murphy (right, holding Irish flag), both of whom work in the company's accounting department, proudly display the Gershow banner during the 14th annual St. Patrick's Day Parade on April 5. They are joined by Pete's uncle, Peter Vaillant, who helped Gershow volunteers distribute the "Going Green" activity books to children in the crowd during the parade. The parade was presented by the Village of Patchogue's Parks and Recreation Department and the Greater Patchogue Foundation.
On April 5, Gershow Recycling took part in the 14th annual St. Patrick's Day Parade in Patchogue Village. Employees at Gershow proudly displayed the company's banner during the parade with the slogan "Long Island's Greenest Company for Over 45 Years." For Gershow Recycling, the "wearing of the green" signifies the company's commitment to preserving the environment through its recycling of scrap metal and paper products.
Gershow volunteers distributed the "Going Green" activity coloring books to children along the parade route. These activity books teach children about preserving the environment in a fun and educational way.
Activity books are available as a community service in limited quantities and for a limited time. To request activity books or shopping bags, click here.