July 10, 2008
Gershow Recycling, Long Island Scrap Metal Industry Available to Comment upon County Executive Signing Scrap Metal Theft Legislation into Law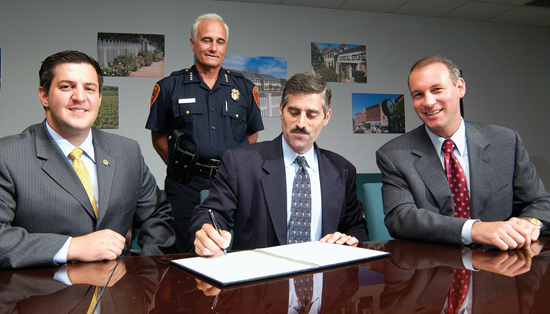 Suffolk County Executive Steve Levy signed into law tough new provisions to better aid police in tracking the sale and redistribution of stolen metals. Pictured (left-right) are County Legislator Daniel Losquadro; Chief Robert Anthony Moore, Chief of Department, Suffolk County Police; County Executive Levy; and County Legislator Steven Stern.
(Medford, New York) Gershow Recycling, and representatives of Long Island scrap metal companies, including PK Metals, Arrow Scrap Corp, and DeMatteo Salvage are available for comment upon the County Executive signing legislation, co-sponsored by Legislators Stern and Losquadro, into law.
"We are pleased the County Executive is signing this bill into law today. The legislation's stiff fines and broad application sends a strong message that Suffolk County will not tolerate the illegal sale of scrap metal. If allowed to take full effect and with proper law enforcement, it will bring an entire industry into compliance overnight. We applaud the County Executive and Legislators Stern and Losquadro for working with the industry to find solutions to the problem of scrap metal theft without placing undue burdens on our environmental recycling industries," said Kevin Gershowitz, President, Gershow Recycling.