November 9, 2009
Gershow Recycling Supports Winner
of Pumpkin Flinging Contest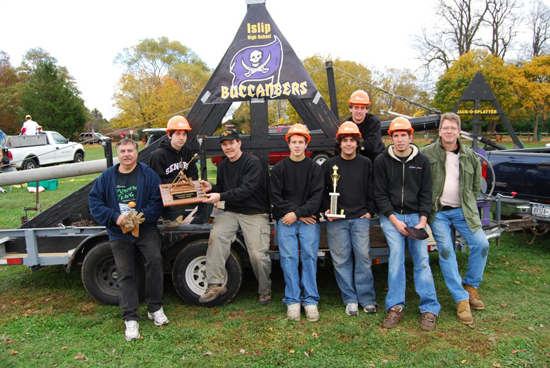 The Islip High School Catapult Team poses with their awards. Pictured (left to right): Parent Volunteer Joe Palazzo; Team Member Mike Phalen; Coach Kenneth Phalen; Team Members Daniel Eichner, Dylan Palazzo; Alumni Volunteer Anthony DeMassi; Team Member Christian Dolan; and Parent Volunteer Tim Dolan. Not present: Parent Volunteer Dan Eichner
On November 1, The Islip High School Catapult Team participated in the Long Island Championship Pumpkin Fling, which took place at the Suffolk County Farm & Education Center in Yaphank. Gershow Recycling generously donated materials to the team so they can build their catapult, named the "Jack-O-Splatter." Although the team was unable to break the record of 819.4 feet they set a few years ago, they did win the 14-to-18-year-old division for the fourth year in a row. That enabled them to retain the perpetual trophy at their school for another year.
In addition to donating scrap iron, Gershow also generously donated sweatshirts and hardhats to the team members. The Islip High School Catapult Team expressed their gratitude for Gershow's donation.
Read a letter thanking S&I Industies (Gershow - Bayshore). The contribution enabled the team to build a catapult that once again "launched" them to victory.