July 24, 2009
Gershow Recycling Donates $2,000 for Play
for Peace Soccer Tournament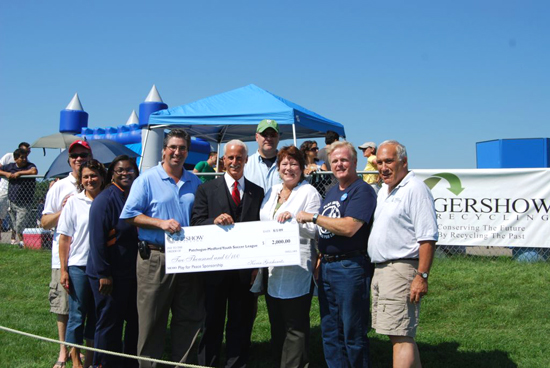 Pictured (left to right): Bill Hilton, Trustee, Village of Patchogue; Maria Hendrickson, Director of Parks and Recreation, Village of Patchogue; Tanya Pottinger, Human Resources Manager, Gershow Recycling; Kevin Gershowitz, President, Gershow Recycling; Brookhaven Town Councilman Tim Mazzei; Stephen J. McGiff, Deputy Mayor, Village of Patchogue; New York State Assemblywoman Pat Eddington; Suffolk County Legislator Jack Eddington; and Patchogue Village Mayor Paul Pontieri
Gershow Recycling sponsored and donated $2,000 to help defray the costs of putting on the Play for Peace/Jugando Por La Paz Soccer Tournament, which was held August 1 at the Patchogue-Medford Youth Soccer Complex in Medford.
The tournament drew 500 spectators to this free event. Eight teams participated in the tournament. The winners were:
• 1st Place: Global Sports Café
• 2nd Place: Ruland Funeral Home
• Sportsmanship Award: Gallo Tropical
The goals of Play For Peace were to bring together diverse nationalities within the community for a full day of World Cup-style soccer and to use sports as a way for people from different ethnic backgrounds to find common ground. Patchogue Village Trustee Bill Hilton and the village's director of parks and recreation, Maria Hendrickson, helped put together the tournament.
"Gershow Recycling was pleased to support the village of Patchogue and Legislator Eddington in their efforts to build community bonds and understanding through sports," said Kevin Gershowitz, President, Gershow Recycling.