September 16, 2008
Patchogue-Medford Youth & Community Services Honors
Kevin Gershowitz and Stephanie Caravolos As Its
"Man and Woman of the Year"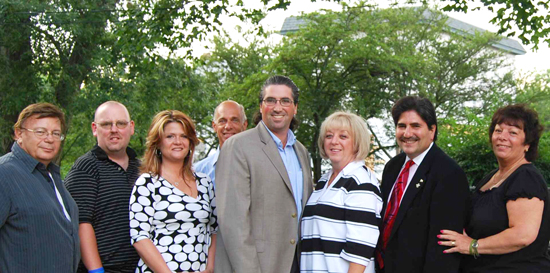 (Medford, New York) Pictured (from left to right): Patchogue-Medford Youth Services Board Members Anthony Prudente and Kevin Gorman; Patchogue-Medford Youth Services Executive Director Kathleen Reilly; Gershow Recycling President Kevin Gershowitz; Baruti Construction President Stephanie Caravolos; Patchogue-Medford Youth & Community Services Board Members Scott Salimando and Maria Polak.
Kevin Gershowitz, president of Gershow Recycling in Medford, and Stephanie Caravolos, president of Baruti Construction in Patchogue, are being honored as the Patchogue-Medford Youth Services "Man and Woman of the Year" at the community organization's fundraiser on November 7 at Sunset Harbour, 90 Colonial Drive in East Patchogue. The event runs from 7 p.m. to 11 p.m.
Mr. Gershowitz is being recognized for his generosity in support of the programs benefiting the community's young people which includes the company's scholarship program, support for the annual Patchogue Lions Club's Christmas in June, the Girl Scouts' Operation Cookie to help support U.S troops in Iraq and Afghanistan, various youth programs and other charitable causes. Through his leadership, the company has supported various environmental causes, including the Citizens Campaign for the Environment, Long Island Pine Barrens Society and the Great Brookhaven Clean-Up.
Ms. Caravolos is being honored for her immeasurable compassion and dedication to serving others. She volunteers for the Suffolk County Women's Business Enterprise Coalition, which provides support and assistance to women who want to start their own business, and is a member and past president of the Patchogue Rotary Club. As a Rotary club member, she has spent the past five years running an annual fashion show fundraiser in which the money goes to the Carol Baldwin Breast Cancer Research Center and local charities that benefit children, including PMYCS.
Tickets for the event are $65.00 per person, with proceeds going to benefit Patchogue-Medford Youth Services. The ticket price includes dinner, cocktail hour and dancing. Sponsorship and journal advertising opportunities are available. For more information, call (631) 758-4100.