September 30, 2009
Gershow Recycling Supports Local Catapult Team's
Attempt to Break Pumpkin-Flinging Record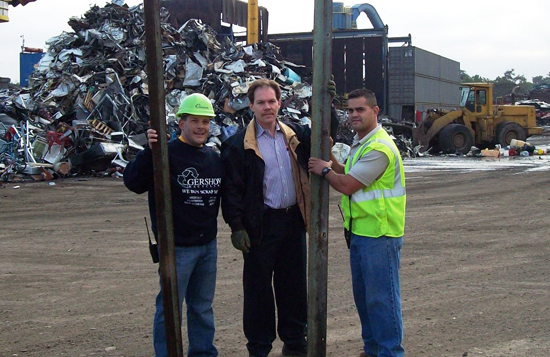 Pictured (left to right): Jonathan Abrams, Manager, Gershow Recycling; Kenneth Phalen, Coach, Islip High School Catapult Team; and Ray Colon, Gershow Recycling
Gershow Recycling recently donated two pieces of angle iron to Kenneth Phalen, Coach of the Islip High School Catapult Team, for a catapult Mr. Phalen's team is building for the upcoming Long Island Championship Pumpkin Fling, which will take place Saturday, October 24 at Suffolk County Farm & Education Center in Yaphank.
Mr. Phalen, who works as an architect for Suffolk County, volunteers his time as the coach of the Islip High School Catapult Team. He assists in the design and construction of the catapult and implements the catapult's design. Although the high school may pay for the team's entry fee, Mr. Phalen relies on residents and local businesses - such as Gershow - for donations.
The catapult, nicknamed "Jack-O-Splatter," is a Trebuchet, which is powered through human means. The Islip High School Catapult Team is seeking to break its own Long Island record of 819.4 feet, and the world record of 856 feet. Mr. Phalen said he will return to Gershow for more supplies for the catapult.