April 7, 2009
Gershow Recycling Sponsors 2009 Great Brookhaven Cleanup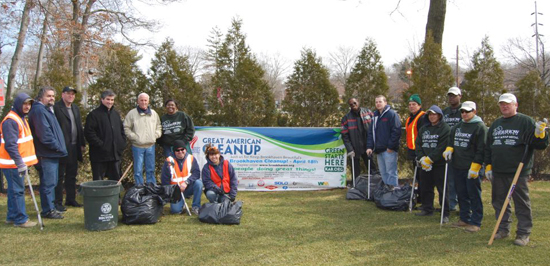 Pictured:Brookhaven Town Councilman Tim Mazzei is joined by Elliott Gershowitz and Tonya Pottinger, both of Gershow, and Gershow and Brookhaven Town employees in the kickoff event.
Gershow Recycling will be the media sponsor for the 2009 Great Brookhaven Cleanup, which takes place on April 18 from 10 a.m. to 3 p.m. This year, the Great Brookhaven Cleanup will be held at seven different locations:
• KK Athletic Complex Parking Lot, 751-777 Horseblock Road (between Blue Point Rd. & Woodmont Pl.), Farmingville
• St. Joseph the Worker Church, Narragansett Avenue, Bellport
• Heritage Park – The Wedge, Route 25A/CR83, Mt. Sinai
• Patchogue Village Hall, Baker Street, Patchogue
• Woodhull Elementary School, Francis Landau Place, Mastic
• Centereach Ball Field, Horseblock Road (next to Knights of Columbus), Centerach
• Percy Raynor Park, CR 347 (across from Belle Meade Road), Setauket
Join Gershow Recycling in participating in the 2009 Great Brookhaven Cleanup. Last year, over 4,000 residents joined together to collect over 87 tons of waste, the greatest single cleanup in Brookhaven Town's history.
Learn how you can get involved. For more information, or to register, visit www.brookhaven.org, or call (631) 451-6222.