Gershow Recycling Donates $500 to American Cancer Society at Sayville Relay for Life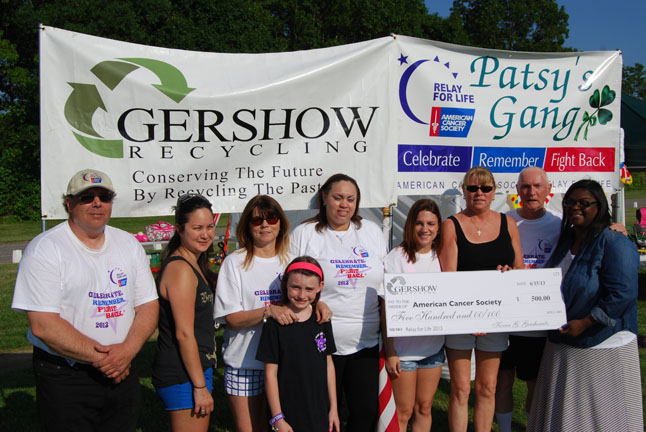 Gershow's Human Resources Generalist Tanya Pottinger (right) presents a check in the amount of $500 for the American Cancer Society to members of Patsy's Gang at the Relay for Life at Sayville Middle School. Some of the members include Gershow employees and their family members, including Gershow employee Rich Ruoff (left), his wife Patty Ruoff (third from left), Mary Bertuccio (third from right), wife of Gershow's Bay Shore Manager Peter Bertuccio and Joe LePage (second from left), Mr. Bertuccio's father-in-law.


On June 15-16, employees at Gershow Recycling and members of "Patsy's Gang" took part in the American Cancer Society's Relay for Life at Sayville Middle School. Gershow donated $500 in joining Patsy's Gang to support the fight against cancer. Relay for Life celebrates the lives of those who have battled cancer, and remembers those loved ones lost to the deadly disease.
Patsy's Gang is comprised of Gershow employee Rich Ruoff, his father-in-law Joe LePage and Mr. LePage's two daughters, Mary Bertuccio, whose husband Peter manages Gershow's Bay Shore facility, and Patricia Ruoff, Mr. Ruoff's wife. The group is named in honor of Mr. LePage's wife, Patsy, who passed away six years ago from cancer.