May 10, 2012
Suffolk Community College Industrial Safety Engineering Students Learn Safety at Gershow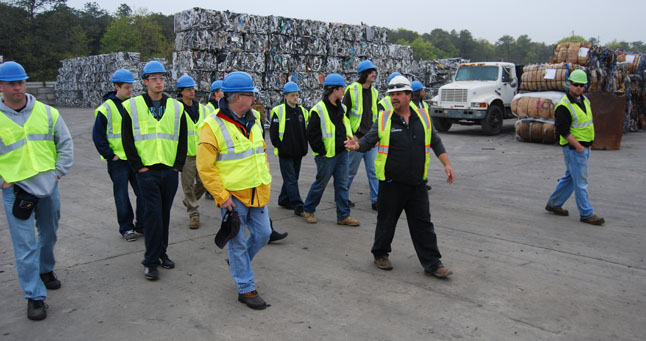 Pictured are industrial safety engineering students from Suffolk County Community College and Associate Professor Leo DeBobes (front row, left) touring Gershow Recycling's Medford facility, along with Gershow Recycling Safety Director Charles J. Keeling (front row, center) and Safety Coordinator Matthew Sweeney (front row, right).
On May 3-4, students from Suffolk County Community College's Industrial Safety Engineering class visited Gershow Recycling's Medford facility and received classroom instruction and tours of the leading environmental recycling company.
In addition to learning about the company and the types of metals that are bought and recycled at Gershow, the students learned about the extensive environmental and safety regulations with which Gershow complies and saw first-hand the equipment, safety procedures and protocols followed by the company to optimize the safe operation of its scrap metal processing and recycling facilities.
Mr. Keeling is a graduate of SCCC and was a member of the college's Fire Protection Technology program. While at Suffolk Community College, Mr. Keeling was the leading student member who organized the formation of the college activity club, the Fire Science Society, which promoted fire safety at SCCC's Selden campus and served as the club's first president.