Gershow Recycling Donates Use of Vehicle for Phi Sigma Kappa's "Smash a Car" Event at Adelphi University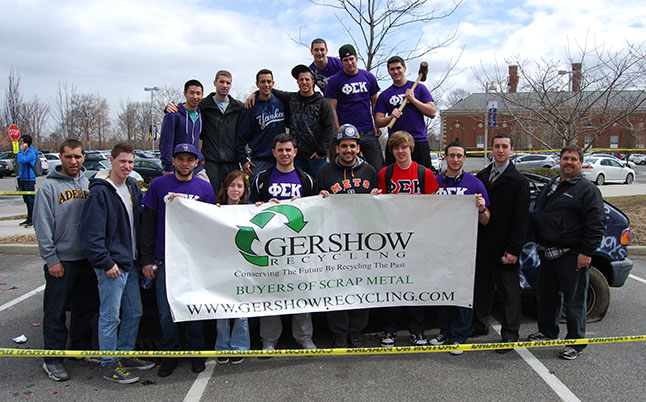 Gershow Safety Director Charles Keeling (bottom row, right) poses with members of Adelphi University's Phi Sigma Kappa fraternity in front of the vehicle provided by Gershow at the fraternity's "Smash A Car" fundraising event on March 28.


In support of local charitable causes, Gershow Recycling provided the use of a vehicle to the Phi Sigma Kappa fraternity at Adelphi University in Garden City for its "Smash A Car" event on March 28.
"Smash A Car" was a daylong event in which students gave a financial donation for the opportunity to smash the vehicle with a sledgehammer. Proceeds went to benefit American Cancer Society's Relay for Life, in which the fraternity participated on April 5 at the university. Phi Sigma Kappa raised more than $400 from the "Smash A Car" event.
Gershow Recycling has also been involved in the Relay for Life by sponsoring the event in Sayville every June and providing a Dumpster for the event. The company also supports Patsy's Gang, a Relay for Life team comprised of Gershow employees and their family members.