June 21, 2012
Gershow Recycling Hosts Medford Fire Department at Its Facility for Extrication Exercise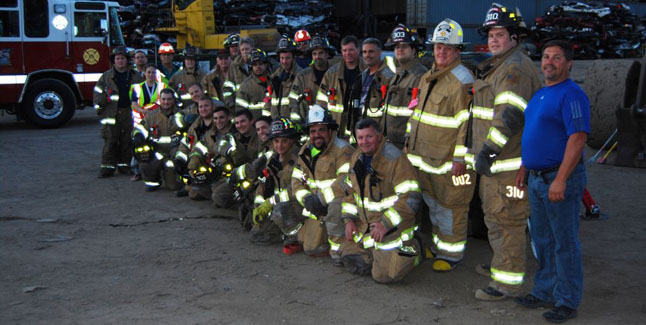 Charles Keeling (right), Safety Director, Gershow Recycling, poses with members of the Medford Fire Department in front of one of the two vehicles that were used during the fire department's extrication exercise on June 18 at Gershow's Medford facility.
In support of local Fire, Rescue and Emergency Medical Services crews, Gershow Recycling hosted members of the Medford Fire Department for an extrication exercise the firefighters performed at Gershow's facility in Medford on June 18.

During the exercise, firefighters extricated a "victim" from a car involved in a "crash" using the "Jaws of Life." They performed two scenarios, one with a vehicle on its side and another involved in a fire. The Medford Fire Department thanked Gershow for their generous support.