August 14, 2012
Gershow Recycling Joins Stony Brook University in Honoring Maria Marks for Her Work with "Can Tabs for Kids" Program
Her Creation of the Program Raised Money for Sunrise Fund and Continue Funding of the Daniel Brooks Memorial Educational Award for Student with Cancer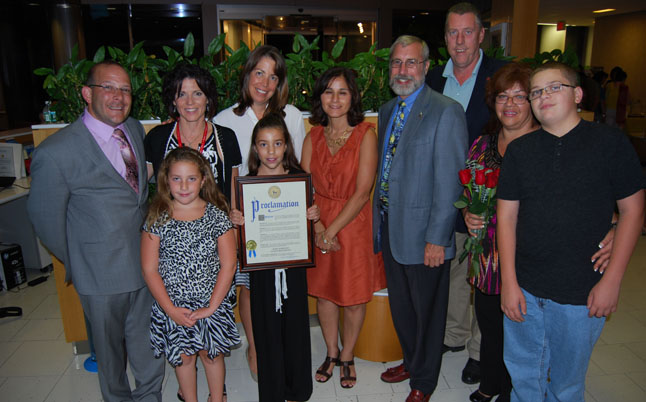 Maria Marks holds up the proclamation she received from the Office of Suffolk County Clerk Judith Pascale for her work in starting and building up the "Can Tabs for Kids" program at a reception at the Stony Brook Cancer Center. Also pictured (left to right): Jonathan Abrams, Gianna Marks, Debra Giugliano, Nicole Gutman, Cara Giannillo, Dr. Robert Parker, Peter and Nancy Marks, and Giovanni Marks.
Gershow Manager Jonathan Abrams was on hand to honor Maria Marks, a student at William Floyd Elementary School who was recognized for her work with Can Tabs for Kids, at a special ceremony at Stony Brook Cancer Center on August 14. Maria helped create Can Tabs for Kids to help raise money for The Sunrise Fund's Daniel Brooks Memorial Educational Award for Students with Cancer. That same night, 24 students received the award which will help pay for their studies in college.
The award is named for Daniel Brooks, who completed treatment for leukemia at Stony Brook University Medical Center and played a significant role in the development of its School Re-Entry Program, which transitions children with cancer. His experience with childhood cancer motivated him to receive a college degree in Special Education and pursue a career helping children who also faced challenges. Daniel's life was cut too short, as he was killed in a motor vehicle accident. Since 2003, one hundred eighty-one awards have been given out, totaling over $158,000. The award money was raised through the grassroots efforts of staff, patients and their families and the neighboring communities.
Like Daniel, Maria was diagnosed with cancer at a young age. Between the ages of two weeks and six months, she underwent numerous chemotherapy sessions. As a result, Maria lost her hearing in both ears and now she must wear hearing aids. Her cancer has since been in remission.
When she was in the third grade, Maria noticed the school announcing fundraisers for diabetes awareness and for the victims of the earthquake in Haiti, but there were no fundraisers for childhood cancer awareness. She brought that to the attention of William Floyd school officials and her parents, Peter and Nancy Marks, who have since become involved with the Sunrise Fund.
In February 2011, the Can Tabs for Kids campaign began at William Floyd Elementary School. Since then, it has since expanded into Kreamer Street Elementary School in Bellport, Holy Angels Regional School in Patchogue, Our Lady of Mercy in Cutchogue, St. Jude's Parish Outreach in Mastic Beach and the Half Hollow Hills, William Floyd and Patchogue-Medford School Districts.
Gershow Recycling weighs and recycles the aluminum tabs collected by the students and matches the funds the students raised which helps make the awards possible. Since the program's inception, more than $3,500 has been raised for The Sunrise Fund.
"On behalf of Gershow Recycling, we would like to congratulate Maria on receiving this prestigious honor from Stony Brook University," Mr. Abrams said. "Her efforts to raise awareness on childhood cancer and get her classmates involved in fighting this insidious disease are worthy of the recognition she is receiving tonight."