October 23, 2012
Gershow Recycling Donates Three Vehicles for Extrication Exercise at Farmingville Fire Department's Fire Prevention Open House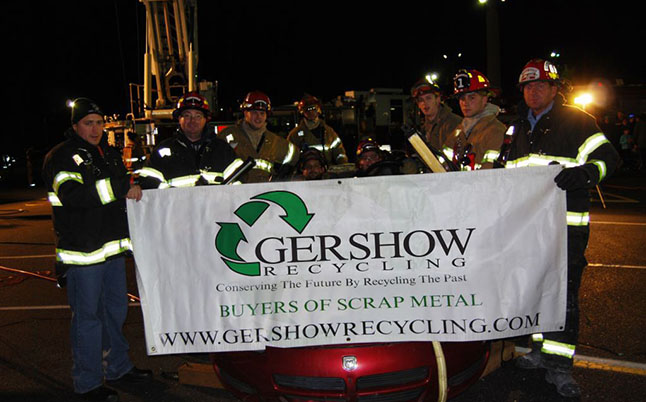 Members of the Farmingville Fire Department pose in front of one of the three vehicles donated by Gershow Recycling during the fire department's Annual Fire Prevention Open House on October 12th.
In support of local Fire, Rescue and Emergency Medical Services crews, Gershow Recycling donated three vehicles to the Farmingville Fire Department for an extrication exercise the firefighters performed during its Annual Fire Prevention Open House on October 12th.

During the exercise, firefighters learned first-hand how to use the "Jaws of Life" and other firefighting tools on the vehicle in the event they needed to extricate a victim from the vehicle involved in a crash. The Farmingville Fire Department expressed their gratitude for Gershow's support and unique opportunities for simulated emergency training.

Gershow has eight locations in Brooklyn, New Hyde Park, Valley Stream, Freeport, Lindenhurst, Huntington Station, Bay Shore and Medford. For more information, call (631) 289-6188 or visit www.gershow.com.