September 11, 2012
Gershow Recycling Corp. Donates 20 Vehicles to Suffolk County Fire Academy for Training Classes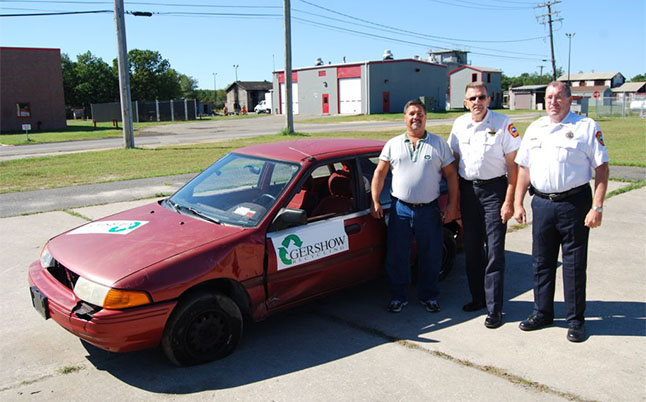 Pictured (left to right): Charles Keeling, Chief Richard Stockinger and Chief Robert Holley
In support of local fire, rescue and emergency service technicians, Gershow Recycling has announced that it will donate 20 vehicles to the Suffolk County Fire Academy. Each vehicle will be provided to the fire academy for each of the 20 upcoming classes at the academy's training facility in Yaphank over the next few months.
Firefighters use junk cars to perform in simulated emergency situations and learn how to extricate victims from the vehicles in the event a crash occurs. However, as the economy has taken a toll on consumers, fewer people have been buying new cars, thereby keeping older vehicles — which would have otherwise found their way into the local scrap yard — on the road. This has resulted in a scarcity of junk vehicles to be provided for firefighters during their extrication exercises.
Gershow has assisted with numerous fire departments throughout Long Island by donating vehicles for extrication exercises. They have also provided junk cars for the Fire, Rescue & EMS Mega Show at Nassau Coliseum, the Chuck Varese Vehicle Extrication Tournament in Northport, and "Gone in Six Hours," which is held by the North Merrick Fire Department.
"Gershow Recycling is proud to assist the Suffolk County Fire Academy and provide them with the vehicles they need to help its students prepare for emergency situations," said Charles Keeling, Gershow's safety director. "The donation of these vehicles indicates our ongoing support of our local first responders, including firefighters, rescue personnel and emergency service technicians."
"We would like to thank Gershow Recycling for providing these vehicles to the fire academy," said Chief Richard W. Stockinger, executive director of the Suffolk County Fire Academy. "Gershow has supported our efforts at the fire academy for several years. They are true community partners."