May 31, 2012
Gershow Donates 60 Vehicles to Fifth Annual Chuck Varese Vehicle Extrication Tournament
Thirty Cars Were Used for Preparation of Competition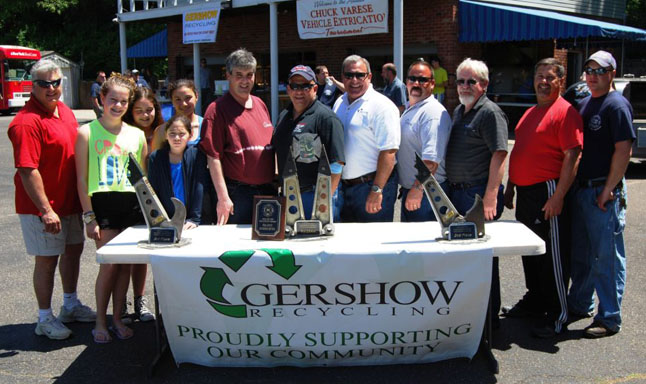 Pictured (left to right): Bill Engellis, Hannah Gershowitz, Emma Gershowitz, Rachel Gershowitz, Mallorie Gershowitz, Elliot Gershowitz, Robert "Beefy" Varese, Steve Rossetti, Richard D'Angelo, Damon McMullen, Charles Keeling, and Joe Pansini.
In support of local fire departments and the Huntington community, Gershow Recycling donated 60 vehicles to the Fifth Annual Chuck Varese Vehicle Extrication Tournament, which was held at the Northport Fire Department's Training Grounds on May 19. Thirty of the cars were used during the tournament while another 30 were used by local fire departments who prepared during the days leading up to the competition.
Twenty-three teams from 13 fire departments in the Town of Huntington, as well as fire departments from North Bellmore, West Babylon, Garden City Park and Kings Park, competed in the tournament. Each team was judged on the amount of time it took to perform the extrication, the handling of equipment and the safety procedures they followed. After the tournament ended, the vehicles were shredded and recycled at Gershow's facility. Proceeds from the tournament went to benefit the Suffolk County Burn Center.
This was covered by The Northport Observer. To read the article, click here.
View photos from CommackPatch.