Gershow Recycling: Conserving the Future
by Recycling the Past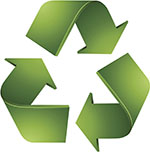 For nearly 50 years, Gershow Recycling has been helping to preserve Long Island's environment by recycling metals, including aluminum, brass, steel, cast iron, appliances, cars and vehicles, and takes pride in calling itself one of Long Island's first environmental companies. Each year, Gershow recycles enough vehicles to stretch end to end from Medford to North Carolina; or you can fill all eight lanes of the Long Island Expressway from the Midtown Tunnel to Riverhead.
"Our company has always considered itself integral to conservation efforts on Long Island. Upwards of 90% of the steel that is produced worldwide uses recycled metals, including almost all of the steel produced in the United States. Our industry proves that recycling works and helps preserve natural resources for future generations," said Gershow President Kevin Gershowitz.
The company's goal is to recycle as much metal as possible from vehicles and other appliances so as to reduce waste that would otherwise end up in a landfill. According to the Institute of Scrap Recycling Industries (ISRI), approximately 135 million metric tons of scrap commodities was processed in the United States.
Scrap metal recycling not only keeps metal out of landfills, but also conserves resources and saves energy while reducing greenhouse gas emissions. For example, recycling one ton of steel conserves 2,500 pounds of iron ore, 1,400 pounds of coal and 120 pounds of limestone, according to ISRI.
Further, a recycled car eliminates 8,811 lbs. of greenhouse gas emissions, which is the equivalent of 502 gallons of gasoline. One refrigerator saves 36 gallons of gas and cuts out 566 lbs. of emissions and one washing machine saves 24 gallons of gas and eliminates 397 lbs. of emissions.
Gershow has eight locations throughout Long Island and the metropolitan New York area:
| | | |
| --- | --- | --- |
| Brooklyn | 1888 Pitkin Avenue | (718) 345-2240 |
| New Hyde Park | 24 Denton Avenue | (516) 746-1081 |
| Valley Stream | 97 East Hawthorne Avenue | (516) 825-7244 |
| Freeport | 143 Hanse Avenue | (516) 634-0644 |
| Huntington Station | 149 W. 11th Street | (631) 385-1200 |
| Lindenhurst | 635 Muncy Avenue | (631) 587-1991 |
| Bay Shore | 33 McAdam Street | (631) 234-1022 |
| Medford | 71 Peconic Avenue | (631) 289-6188 |