July 2, 2012
L.I. Chapter of American Society of Safety Engineers Names Charles Keeling Safety Professional of the Year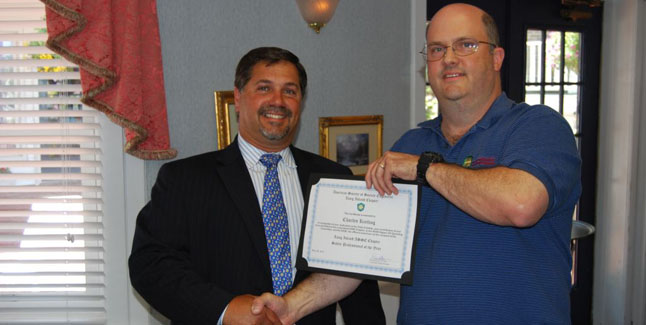 Charles Keeling (left) accepts his award from LI ASSE's Immediate Past President, Donald Meyer (right).
Gershow Recycling's Safety Director, Charles Keeling, was named Safety Professional of the Year by the Long Island chapter of the American Society of Safety Engineers (LI ASSE). The presentation was held during the organization's luncheon at Danford's Hotel & Marina in Port Jefferson on June 28.
Mr. Keeling was honored for his advocacy of safety practices in the workplace and his contributions to the organization. The LI ASSE's Safety Professional of the Year Award is an honor bestowed on its recipients for acknowledgement in support of the dedication and outstanding contributions to the Long Island chapter, the society, the region and the safety profession.
ASSE is the oldest and largest professional safety organization. It has more than 32,000 members who manage, supervise and consult on safety, health and environmental issues in industry, insurance, government and education. ASSE members work to prevent workplace injuries and illnesses, create safer work and leisure environments and develop safer products, enhancing the quality of life.
Mr. Keeling was president of LI ASSE from 2010 to 2011. He previously served as chairman of the Long Island chapter's Professional Development Conference and has contributed technical safety articles to its monthly newsletter. Last year, he was the guest speaker at the American Society of Highway Engineers' Long Island chapter meeting in which he discussed his roles with LI ASSE and Gershow and talked about engineering and safety.
For over six years, Mr. Keeling, of Oakdale, has been safety director for Gershow, where his responsibilities include planning, developing and coordinating the occupational safety and health of personnel, equipment and environment to achieve safety effectiveness for the company.
Additionally, Mr. Keeling serves on the Institute of Scrap Recycling Industries' National Safety Environmental Council, where he has been a speaker for a technical presentation and has worked as a group leader to develop safety management practices for the scrap recycling industry. He was previously employed as a Police Officer for the New York City Police Department and was a volunteer firefighter for 25 years.