November 30, 2011
Gershow Sponsors Winner of 9th
Annual Pumpkin Flinging Contest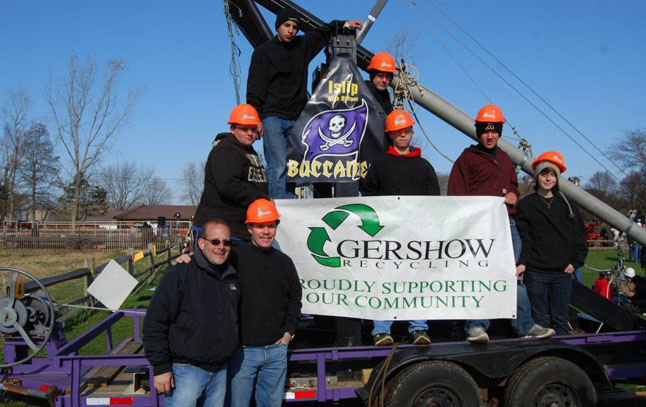 Front row (left to right): Jonathan Abrams and Ken Phalen. Standing on the catapult (l-r): Mike Maratta, Sam Melaniff, Daniel Angileri, James Claudio, Brian Eichner and Michael Barsalona.
Gershow Recycling sponsored the Islip High School catapult team, which brought its "Jack-O-Splatter" to the 9th Annual Long Island Championship Pumpkin Fling. The event was held on November 12 at the Suffolk County Farm & Education Center in Yaphank.
For the sixth consecutive year, the team won the 14-to-18-year-old division and was first place overall. In addition, the team was awarded the Perpetual Trophy, which is considered the Stanley Cup of pumpkin flinging.
In 2009, Gershow donated scrap iron to the team to help them build the "Jack-O-Splatter." Since they do not have a budget within the school district, the team relies on donations from local businesses and people in the community. S&I Industries, Inc. in Bay Shore, a Gershow affiliate, donated additional scrap metal and the trailer for the catapult. In addition, Gershow generously donated sweatshirts and hardhats to the team members. The Islip High School catapult team thanked Gershow for its sponsorship and its donation.