May 5, 2011
Gershow Recycling Appeared on National Geographic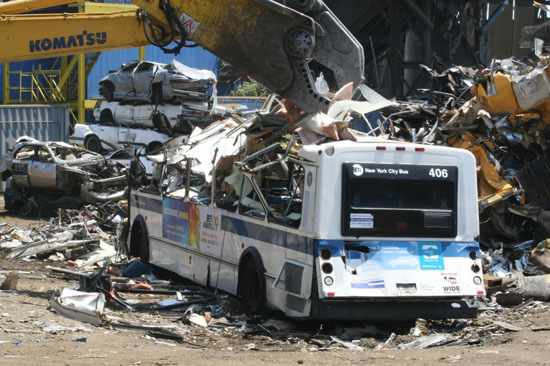 A New York City bus gets recycled in a scene from National Geographic Television's "Break It Down: New York Scrap Yard." © NGT
Gershow Recycling was featured on
National Geographic
"Break it Down: New York Scrap Yard"
May 5, 2011
Go inside Gershow Recycling — a sprawling 40-acre scrap yard in Long Island, N.Y. In just one day, this family-run business will crush three million pounds of scrap — including as many as 500 cars and 20 city buses — to create a multimillion-dollar mound of steel. This family of scrap connoisseurs has only 10 hours to get the job done.
During the summer of 2010, National Geographic spent several hundred hours at Gershow to produce the hour-long program featuring Gershow's Medford, New York location.
"We are so pleased that National Geographic, known throughout the world as a leader in quality and educational programming, devoted so much time and resources to learn about our business and its importance to the economy. This program is an eye-opener to anyone interested in learning about the scrap metal industry and recycling in general," said Kevin Gershowitz, President, Gershow Recycling.
PRESS:
Long Island Press.com: Long Island's Gershow Recycling to Appear on National Geographic TV Show
Newsday: National Geographic TV to Feature Recycler
Long Island Business News: Pith Helmet Not Required
Waste & Recycling News: N.Y. Scrap Yard to Star in National Geographic TV Show
AMM: Gershow Eyeing More Feeder Yards