February 17, 2011
Gershow Recycling Collects 50,000 Lbs. of Holiday Lighting, Ships to Overseas Markets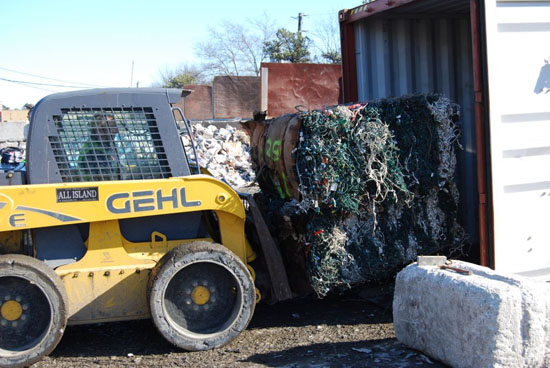 Pictured: A forklift brings used and unwanted holiday lighting to a container at Gershow's facility in Medford. The copper wiring found in the lighting is being exported overseas to be used in other manufactured products.
Gershow Recycling recently collected approximately 50,000 pounds of used and unwanted holiday lighting, which was sold and shipped from its Medford facility to overseas markets on February 8. The wiring in the lighting consists of copper, a valuable industrial commodity in the global marketplace, which will be stripped down and used in the manufacture of new products.
Following the holidays, Gershow Recycling urged local residents and businesses to recycle broken, unwanted or outdated holiday lighting by bringing them to one of its seven locations, where they would be paid up to 40 cents per pound. The company also urged residents to check their lighting to make sure it was not frayed before storing it, as frayed wires present a fire hazard if used.