April 8, 2011
Gershow Recycling Hosts Greenlawn Fire Department's Extrication Exercise at Its Huntington Station Facility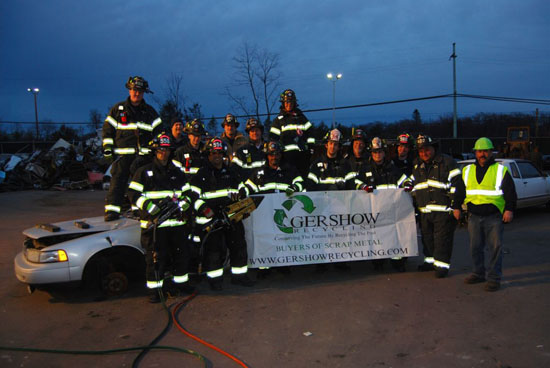 Pictured: Richard D'Angelo (right), Manager, Gershow's Huntington Station facility, is joined by members of the Greenlawn Fire Department in front of one of the three vehicles that were used during an extrication exercise at Gershow's Huntington Station facility on March 30.
In support of local Fire, Rescue and Emergency Medical Services crews, Gershow Recycling opened its Huntington Station facility to the Greenlawn Fire Department on March 30 to allow them to perform their extrication exercise. Gershow provided three vehicles for the fire department.
During the exercise, firefighters extricated a "victim" from a car involved in a "crash" using the "Jaws of Life." The Greenlawn Fire Department thanked Gershow for their generous support.