October 4, 2011
Gershow Recycling Helps Holy Angels Regional School
Kick Off "Can Tabs for Kids" Program
Students Collect Aluminum Tabs in Fight against Childhood Cancer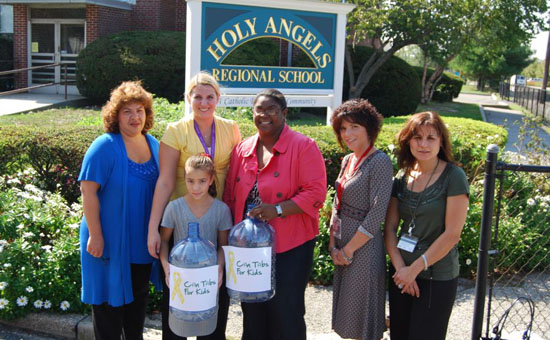 Maria Marks (standing in front), a student at William Floyd Elementary School, and Tanya Pottinger (center), Human Resources Generalist, Gershow Recycling, hold the water jugs that will be used to collect the aluminum tabs from students at Holy Angels Regional School for the Can Tabs for Kids program. Also pictured (l-r): Nancy Marks, Maria's mother; Christina Sarafin, Teacher, Holy Angels Regional School; Debra Giugliano, Director of the School Re-Entry Program, Stony Brook University Medical Center; and Cara Giannillo, School Re-Entry Coordinator, Stony Brook Children's Hospital.
Gershow Recycling announced its support for Holy Angels Regional School's Can Tabs for Kids project, a program designed to raise funds for the fight against childhood cancer. The money raised will benefit the Sunrise Fund at Stony Brook University Medical Center, an organization that raises awareness and funds for specific projects to assist families. Gershow has pledged to purchase the can tabs and match the funds raised through this program. Tanya Pottinger, Human Resources Generalist, Gershow Recycling, spoke to the students during an assembly at Holy Angels Regional School on September 30.
As part of the Can Tabs for Kids program, students at Holy Angels Regional School will bring in aluminum tabs from soft drink and pet food cans that their parents purchased and place them in collection bins located in their classrooms. Each week, the bags are taken out of the bins and brought to Gershow, where the contents will be weighed and recycled. The tabs will be collected throughout the school year, and a special assembly will be held to announce the worth of the collected tabs. Gershow will match that amount with a special donation to the Sunrise Fund, up to $5,000.
The idea for the program was inspired by Maria Marks, a William Floyd Elementary School student who was diagnosed with cancer at a young age. Between the ages of two weeks and six months, she underwent numerous chemotherapy sessions. The constant exposure to the radiation resulted in Maria losing her hearing in both ears and now she must wear hearing aids. Her cancer has since been in remission.
The program began at Maria's school on February 4. Since the program began, it has expanded to other school districts as well, including the Half Hollow Hills School District, Patchogue-Medford Schools and the William Floyd School District. To date, more than 750,000 aluminum tabs have been collected. Gershow matched the amount of $253 raised by the students and made an additional donation of $1,000 on top of the match.
The Sunrise Fund was established to raise awareness about childhood cancer and the special needs of such children throughout local communities. The money used by The Sunrise Fund sustains cutting-edge research and family programs such as support groups, a School Re-Entry Program and many others.
"Gershow Recycling is proud to support this wonderful program that the students have taken part in," Ms. Pottinger said. "It is very encouraging to see the program expand throughout the community as other schools join in the fight against childhood cancer."
"We are very proud to bring Can Tabs for Kids into our school," said Michele Mazur, Principal of Holy Angels Regional School. "In addition to raising money for the Sunrise Fund, our students are bringing awareness and hope to other children who have been or will be diagnosed with cancer."