February 4, 2011
Gershow Recycling Supports Can Tabs for Kids - Pledging Matching Funds to Support the Fight against Childhood Cancer
William Floyd Elementary School Spearheads Program to Help Other Children Diagnosed with Cancer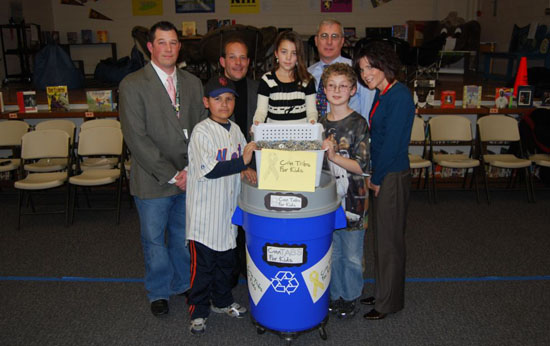 William Floyd Elementary School students Zachary Sheikh, Maria Marks and Sean Siegel hold up the aluminum tabs their classmates have collected so far for Can Tabs for Kids, a program supporting the fight against childhood cancer. Also pictured (left to right): Keith Fasciana, Principal, William Floyd Elementary School; Jonathan Abrams, Manager, Gershow Recycling; Dr. Robert Parker, Director of the Department of Pediatric Hematology/Oncology, and Debra Giugliano, Director of the School Re-Entry Program, Stony Brook University Medical Center.
Gershow Recycling announced its support for William Floyd Elementary School's Can Tabs for Kids project, a program designed to raise funds for the fight against childhood cancer. The money raised will benefit the Sunrise Fund at Stony Brook University Medical Center, an organization that raises awareness and funds for specific projects to assist families. Gershow has pledged to purchase can tabs and match the funds raised through this program. Jonathan Abrams, Manager, Gershow Recycling, made the announcement at a special assembly announcing the kickoff of the program at William Floyd Elementary School on February 4.
As part of the Can Tabs for Kids program, students in the William Floyd School District will bring in aluminum tabs from soft drink and pet food cans that their parents purchased and place them in collection bins located in their classrooms. Each week, the bags are taken out of the bins and brought to Gershow, where the contents will be weighed and recycled. The tabs will be collected until June 15, when a special assembly will be held to announce the worth of the collected tabs. Gershow will match that amount with a special donation to the Sunrise Fund, up to $10,000.
Gershow is currently paying 55 cents per pound for aluminum. Although soda cans are not being collected, students can redeem the cans for a cash deposit at local supermarkets and donate the money to the Sunrise Fund.
The idea for the program was inspired by Maria Marks, a William Floyd Elementary School student who was diagnosed with cancer at a young age. Between the ages of two weeks and six months, she underwent numerous chemotherapy sessions. The constant exposure to the radiation resulted in Maria losing her hearing in both ears and now she must wear hearing aids. Her cancer has since been in remission.
When she was in the third grade, she noticed the school announcing fundraisers for diabetes awareness and for the victims of the earthquake in Haiti, but there were no fundraisers for childhood cancer awareness. She brought that to the attention of school officials and, at that time, her parents, Peter and Nancy Marks, got involved in the Sunrise Fund.
The Sunrise Fund was established to raise awareness about childhood cancer and the special needs of such children throughout local communities. The money used by The Sunrise Fund sustains cutting-edge research and family programs such as support groups, a School Re-Entry Program and many others.
"Gershow Recycling is proud to support this wonderful program that the students have taken part in," Mr. Abrams said. "It is very inspiring to see Maria bring the subject of childhood cancer to the forefront at her school and to have her classmates get involved in this program as well. We are looking forward to see this program expand throughout the district and the community."
"I'm very proud of Maria for spearheading the Can Tabs for Kids project," said Keith Fasciana, Principal of William Floyd Elementary School. "In addition to raising money for the Sunrise Fund, she is bringing awareness and hope to other children who have been or will be diagnosed with cancer."