April 14, 2011
Gershow Recycling Receives 350,000 Aluminum Tabs Collected by William Floyd Elementary School Students for
"Can Tabs for Kids" Program
Money Raised to Benefit Sunrise Fund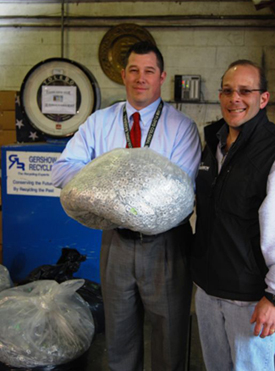 On April 11, Keith Fasciana, Principal, William Floyd Elementary School, came to Gershow Recycling's Medford facility to weigh the aluminum tabs collected by the students as part of the school's "Can Tabs for Kids" program to benefit the Sunrise Fund at Stony Brook. Since November 2010, the students have collected approximately 350,000 tabs. Gershow weighed the six bags of tabs at 218 pounds.

On February 4, Gershow Recycling helped William Floyd Elementary School kick off the "Can Tabs for Kids" program, in which students bring in aluminum soda and pet food tabs and place them in collection bins located inside their classrooms. The bags are taken out of the bins and brought to Gershow, where they will be weighed and recycled.

The money the students receive will then go to benefit The Sunrise Fund at Stony Brook, which was established to raise awareness about childhood cancer. Gershow, in turn, will match the amount raised, up to $10,000. On June 8, the school will officially announce how much money The Sunrise Fund will receive between the amount raised by the students and Gershow's match.
Press: Newsday LI Life: Can Tabs for Kids