April 12, 2011
Gershow Recycling Hosts Cooper Union Students Learning about Mechanical Process of Industrial Equipment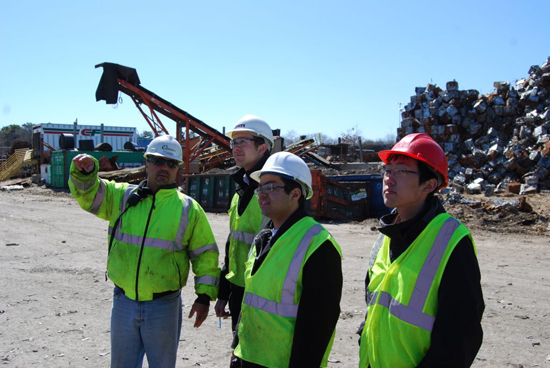 Charles Keeling (left), Safety Director, Gershow Recycling, explains how the machinery at Gershow's Medford facility operates and the functions for each piece of equipment to (l-r) Bill Witter, Raymond Bekheet and Daniel Lee, students at The Cooper Union.
On March 29, Charles Keeling, Safety Director, Gershow Recycling, hosted Raymond Bekheet, a mechanical engineering student at The Cooper Union in Manhattan, who was performing research for this senior-year thesis on how the scrap metal recycling industry deals with the mechanical process. Raymond was joined by two of his classmates, Bill Witter of Farmingdale and Daniel Lee of Queens.

In order to meet graduation requirements, Raymond, a Melville resident, had to choose a company as a subject for his thesis, and he chose Gershow. He said he came across Gershow when he saw the trucks on the road. When he visited Gershow's website and saw pictures of the machinery that were used, he decided that Gershow would be the perfect fit for his thesis.

Some of the topics Raymond is covering for his thesis are the levels of mechanical engineering present at the site; the complications that must be overcome; and the advanced techniques that are utilized by this company.

During the two-hour tour, Mr. Keeling showed them around the Medford facility and described the equipment that Gershow uses, how they work and what they are used for. He also emphasized the safety precautions its employees must take before operating the equipment.