September 8, 2010
Gershow Recycling Donates $2,500 to Songs of Love Foundation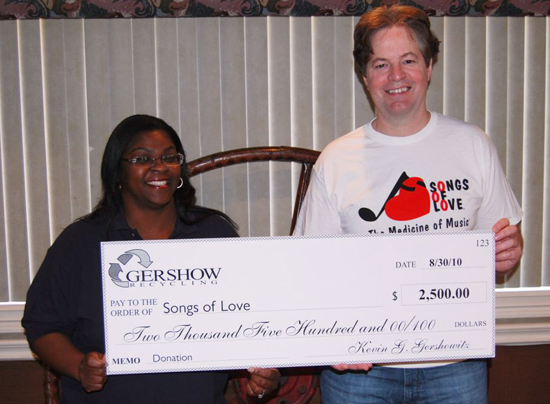 Tanya Pottinger (left), Human Resources Generalist, Gershow Recycling, presents a check in the amount of $2,500 to John Beltzer (right), President/Founder, Songs of Love Foundation.
On August 30, Gershow Recycling presented a check in the amount of $2,500 to Songs of Love Foundation, a 501c(3) non-profit organization based in Forest Hills, Queens, which creates free personalized original songs for children and teenagers currently facing difficult medical, physical or emotional challenges as a way to lift their spirits.
To provide funding for its program, Songs of Love operates a vehicle donation program in which the organization accepts cars, trucks, recreational or other vehicles. Those who donate a car will receive a tax deduction. Gershow purchases vehicles from Songs of Love, with the money going to benefit the organization's programs.