July 27, 2010
Gershow Recycling's Brooklyn Facility Appeared on
the August 3 Episode of Spike TV's "Scrappers"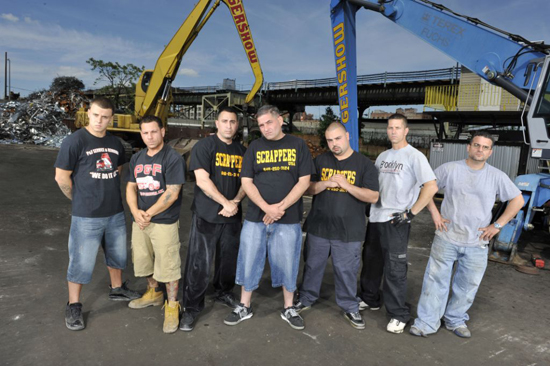 The cast of SPIKE TV's "Scrappers" pose at Gershow Recycling's facility in Brooklyn. Pictured (left to right): P&F Service and Removal Team Greg Dakoubanos and Sal "The Barber" Vasallo; Scrappers USA crew Joe Posa, Frankie "Noots" Fidilio and Darren Zerafa and Mad Scrappers Dino Mininni and Mimmo Saldino.
Photo credit: Spike TV/Fernando Leon
Gershow Recycling was featured on

Spike TV's New Show "Scrappers"

August 3 at 10 p.m.
On August 3, Gershow Recycling was featured in the premiere of Spike TV's new show, "Scrappers." The half-hour show was scheduled to air at 10 p.m.
Filmed entirely in Brooklyn, "Scrappers" is a comedic reality show featuring Brooklyn's toughest scrap metal collectors. In each episode, three scrap metal crews, who are real-life friends and competitors, will find treasure in tons of twisted metal and test their relationships on the search for the big score. A segment of the inaugural episode finds these scrap collectors bringing their collected scrap to Gershow's facility on Pitkin Avenue to see who comes away with the most money.
The colorful characters of this show include the Scrappers USA crew of Frankie Noots, the "Don of Scrap", smooth-talking negotiator Joe Posa and Darren, who throws out the good metal and keeps the trash; the crew from P&F Service and Removal, consisting of Sal the Barber, who is training to be a mixed martial artist in between scrap runs, and Greg, his right-hand man and MMA training partner; and the Mad Scrappers, Mimmo and Dino, a slapdash crew who need to rent a van every day to search for scrap metal.
The episode of "Scrappers" airs on

Tuesdays at 10 pm ET
Channel 41 on Cablevision (Long Island), Channel 56 on Cablevision (Brooklyn), Channel 36 on Time Warner (Queens/Brooklyn) and Channel 54/1505 on Verizon FiOS.
Press:
Brooklyn Daily Eagle - Brooklyng: It Serves The 'Scrappers'
Schedule of Re-airings:
| | | |
| --- | --- | --- |
| Tuesdays | 10:00 p.m. | Original |
| Tuesdays | 10:30, 11:00, 11:30 p.m. | Re-air |
| Thursdays | 11:00, 11:30 p.m. | Re-air |
| Mondays | 11:00, 11:30 p.m. | Re-air |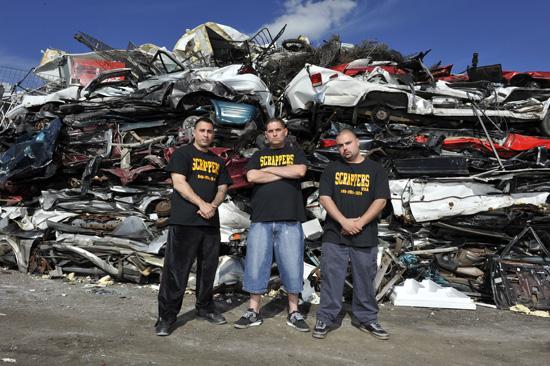 The cast of SPIKE TV's "Scrappers" pose at Gershow Recycling's facility in Brooklyn.
Photo credit: Spike TV/Fernando Leon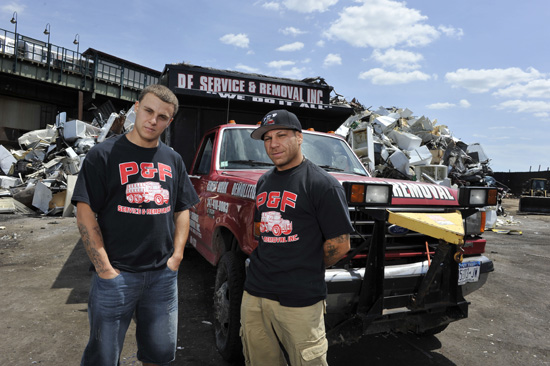 The cast of SPIKE TV's "Scrappers" pose at Gershow Recycling's facility in Brooklyn.
Photo credit: Spike TV/Fernando Leon