April 23, 2010
Gershow Recycling Supports "Patsy's Gang" with
$1,250 Donation to American Cancer Society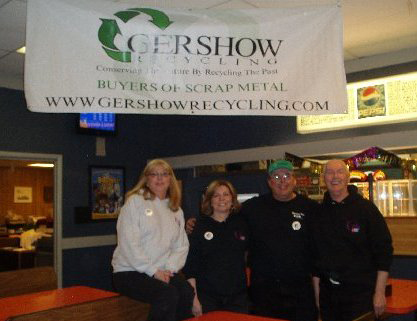 Pictured: Members of "Patsy's Gang" pose under the Gershow Recycling banner at its Relay for Life fundraiser at East Islip Lanes. Pictured (left to right); Mary Bertuccio; Patricia Ruoff; Rich Ruoff of Gershow Recycling; and Joe LePage.
In support of local charities, Gershow Recycling presented a check in the amount of $1,250 to "Patsy's Gang," who will participate at the American Cancer Society's "Relay for Life" on June 12 at Sayville Middle School.
On April 10, "Patsy's Gang" held its 1st Annual Bowling Party fundraiser at East Islip Lanes benefiting Relay for Life. In addition to Gershow's generous donation, "Patsy's Gang" raised $1,500.00 at the bowling party. The proceeds from the Relay for Life and the bowling party will be donated to the American Cancer Society. "Patsy's Gang" thanked Gershow Recycling for its donation.
"Patsy's Gang" is the group of people comprised of Gershow employee Rich Ruoff, his father-in-law Joe LePage and Mr. LePage's two daughters, Mary Bertuccio, whose husband Peter manages Gershow's Bay Shore facility, and Patricia Ruoff, Mr. Ruoff's wife. The group is named in honor of Mr. LePage's wife, Patsy, who passed away two and a half years ago from cancer.
Relay For Life celebrates the lives of those who have battled cancer, and remembers those loved ones lost to the deadly disease. At last year's Relay for Life, Gershow Recycling made a $500 donation to the American Cancer Society, sponsored the relay and donated a Dumpster for the event.