October 20, 2010
Gershow Recycling Supports Patchogue-Medford Community at Medford FD's Fire Prevention Open House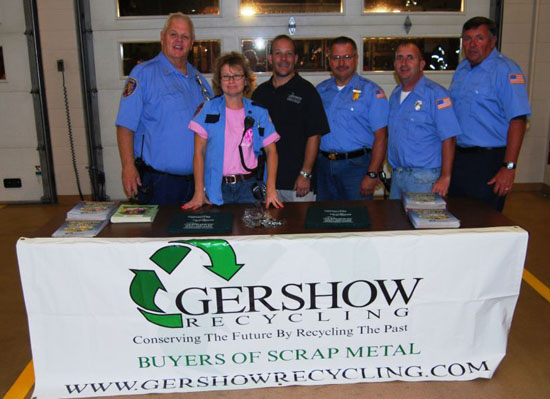 Jonathan Abrams (third from left), Manager, Gershow Recycling, poses with members of the Medford Fire Department at Fire Prevention Open House on October 8 at the Medford Firehouse. Also pictured (l-r): Second Assistant Chief Bill Hart; Firefighter Debbie Theman; Chief Norman Melcher; Firefighter Henry Rotermund; and Ex-Chief Michael Barry.
In support of local Fire, Rescue and Emergency Medical Services crews and the Patchogue-Medford community, Gershow Recycling participated as one of the local exhibitors at the fire prevention open house held on October 8 at the Medford Firehouse.
Gershow offered its educational coloring books, keychain magnets, baseball caps and reusable shopping bags to those in attendance. Jonathan Abrams, Manager, Gershow Recycling, pointed out that reusable shopping bags are a safer alternative to paper bags because they are less flammable. He also said it is better to recycle unused or unwanted products, as opposed to leaving it piled up inside the house, which could become a fire hazard. The Medford Fire Department thanked Gershow for its participation in the event.