August 6, 2010
Children from Pal-O-Mine Equestrian Visit Gershow Recycling
As Part of J-STEP Work-Study Program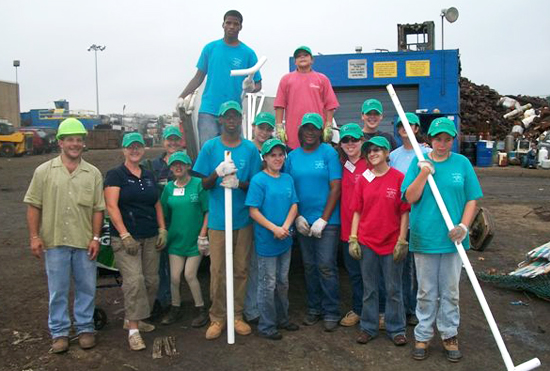 Jonathan Abrams (left), Manager, Gershow Recycling, is joined by the children and job coaches from Pal-O-Mine Equestrian who came to Gershow's Medford facility to drop off their unwanted scrap metal. Also pictured are Paddy Hennessey (left), Liz Casey (back row, left) and Melanie Snider (back row, second from right), Job Coaches, Pal-O-Mine Equestrian.
On July 23, children from Pal-O-Mine Equestrian, a therapeutic equestrian program based in Islandia, came to Gershow Recycling's Medford facility to bring scrap steel to be recycled as part of Pal-O-Mine's J-STEP (Job Security Through Equine Partnership) program.
Children from the metropolitan area were invited to participate in J-STEP, which is Pal-O-Mine's work-study program. In addition to learning how to punch a time clock and perform specific job duties, the children learned about the environment and the importance of recycling and, at the same time, earned money for performing their job duties.
Among the scrap steel the children brought to Gershow were old file cabinets and paddock gates. Pal-O-Mine received money for their recycled steel which will go to benefit the program. The children and job coaches also received Gershow T-shirts and baseball caps.
This was Pal-O-Mine's first visit to Gershow. The children from the program plan to make more visits in the future.