March 4, 2010
Gershow Recycling Honored by SBPLI for Support and Participation in Long Island FIRST Robotics Competition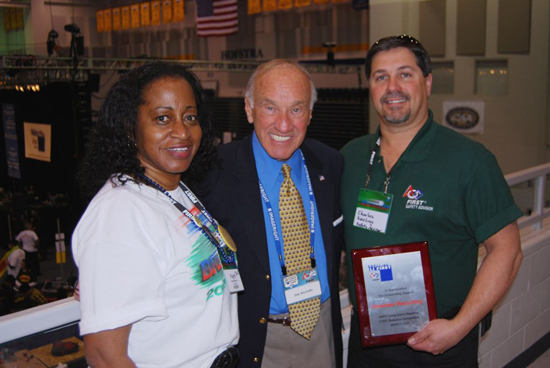 Pictured: Charles Keeling (right), Safety Director, Gershow Recycling, accepts an award on behalf of Gershow from Dr. Fayth Vaughn-Shavuo (left) and Joseph Sicinski (center), Board Members, School-Business Partnerships of Long Island, Inc.
At the 11th annual Long Island FIRST (For Inspiration and Recognition of Science and Technology) Robotics Competition, Gershow Recycling was honored by School-Business Partnerships of Long Island, Inc. (SBPLI) for its support of the organization, local robotics programs and the tournament, which was held March 26-27 at Hofstra University's David S. Mack Sports & Exhibition Complex (Arena) in Hempstead, NY.
In support of SBPLI and the robotics program, Gershow Recycling donated $2,500 to the Patchogue-Medford High School robotics team to help them pay for the construction and transportation of their robot. Gershow donated another $2,500 to SBPLI to help defray the costs associated with the event. Earlier this year, Gershow invited local robotics teams to receive aluminum scrap from its Medford facility which they used to build their robots.
Charles Keeling, Safety Director, Gershow Recycling, also volunteered his time and talents at LI FIRST as one of its safety advisors. Mr. Keeling has been Safety Director for Gershow Recycling for over four and a half years. He is responsible for planning, developing, and coordinating the occupational safety and health components of personnel, equipment, and the environment to achieve safety effectiveness for the company.