May 21, 2010
Gershow Recycling's Jonathan Abrams Speaks
at Career Day Program at Longwood High School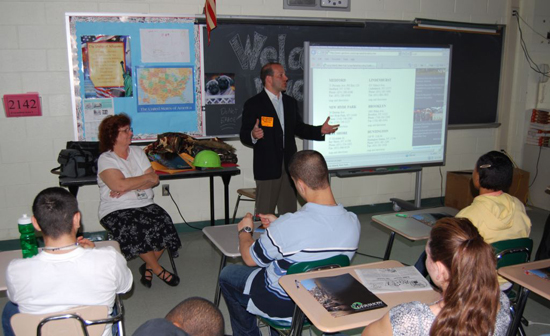 Jonathan Abrams (standing), Manager, Gershow Recycling, addresses students at a Career Day program at Longwood High School on May 3 as Denise Kneuer (left), Vocational Specialist, Longwood High School, looks on.
On May 3, Jonathan Abrams, Manager, Gershow Recycling, visited a classroom at Longwood High School to describe what his company does during a Career Day program attended by approximately 20 students with special needs. Career Day was coordinated through the Learning for Life program, which helps young people develop social and life skills, assist in character and career development and help them formulate positive personal values.
Mr. Abrams explained the typical workday at Gershow, the different job functions at the company and the educational and work experience required for each job. He also described how different types of scrap metal are sorted, separated and later recycled. He emphasized how recycling helps the community, saves money and preserves the environment.
In addition to describing what the company does, Mr. Abrams talked about how Gershow is involved in the community by sponsoring local charity events, supporting the local high school robotics teams and donating cars to local fire departments for extrication exercises. During the 45-minute class, Mr. Abrams took questions from the students.
Each student received an informational packet and magnetic keychain, courtesy of Gershow.